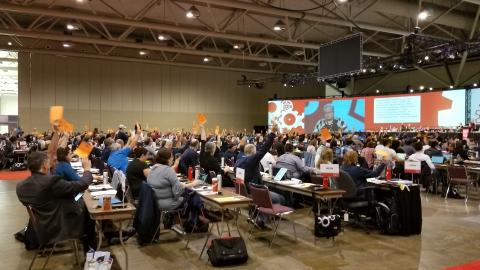 Delegates focused their attention on proposed changes to PSAC's Constitution which governs the overall functioning of the union. The following amendments were made:
PSAC's Constitution and governing documents will now use the term Indigenous Peoples, a change supported by the union's National Aboriginal Peoples Circle. The change applies only to the English version of the Constitution.
Directly Chartered Locals (DCL) will now be entitled to nominate their members for PSAC honourary membership.
DCLs, Area Councils and Regional Councils will be able to send resolutions directly to PSAC national triennial conventions. Components already have the right to do so.
In order to help communicate with members, the national president – if not already bilingual – will have one year to begin a second language course to improve linguistic skills with the training continuing through the term of office.
Delegates voted to refer a number of other resolutions back to the constitution committee for reconsideration. After the committee deliberates, these resolutions will be returned to the convention for further debate.
The convention also directed the PSAC National Board of Directors to develop guidelines for use when it is necessary to put a constitutionally-recognized body of the union into trusteeship. 
Resolutions adopted to support union activities
In order to support the union's activists and provide more access for members to attend PSAC's regional triennial conventions, the current union subsidy to cover delegate travel, accommodation and loss of salary has been increased by 25 per cent.
Funding for regional health and safety conferences has been increased.
Funding is also increased for Area Councils to help carry out their political action and community work.