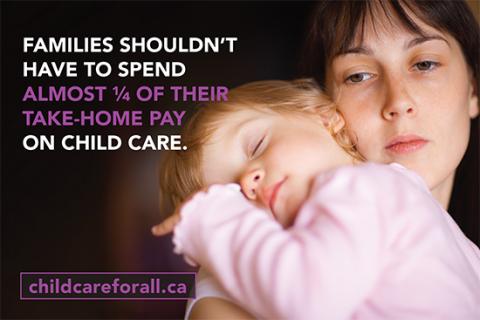 The need for universal, affordable and accessible child care is greater than ever as child care fees across Canada continue to rise faster than the rate of inflation.
A new study by the Canadian Centre for Policy Alternatives (CCPA), Time Out: Child care fees in Canada 2017, shows that child care fees have risen faster than inflation in 71% of Canadian cities since last year, and in 82% of cities since 2014.
"It's discouraging to see parents having to pay more and more for child care, especially since fees are already so high," said Robyn Benson, National President of the Public Service Alliance of Canada. "This study demands a swift and immediate response by all levels of government because clearly they are not doing enough to address the child care crisis in Canada."
The CCPA study examines the median cost of child care fees in Canada's 28 biggest cities for full-time care of infants, toddlers and preschoolers.
PSAC continues push the federal government to build a quality, affordable child care system that all families can access wherever they live. The 2017 federal budget made a commitment to long-term funding for early learning and child care, but there is still considerable work ahead.
Still work to do:
More federal money:  PSAC proposes $1.2 billion in 2018 with incremental increases each year to meet the child care needs of families; the current allocation of $500 million -  $540 each year in the first five years is far from enough.  A recent International Monetary Fund report recommends an annual federal child care expenditure of $8 billion.
Robust federal policy: The federal government must be more proactive and bolder, using its spending power to make real change, not merely transfer money to strengthen the existing child care patchwork across Canada.
Invest public funds wisely: Public funds should go to operational funding of child care services, not to bolstering individual parent-fee subsidies, which don't work for families in any income bracket.
Support not-for profit child care: Public funds should be used to expand not-for-profit and public child care, not private businesses.
Fair compensation: Public funds are needed to properly compensate a qualified child care workforce. It's time to end the wide-ranging and worsening workforce problems without increasing parent fees.
Meaningful consultations: The federal government should engage in meaningful consultations with child care advocates on how to move forward, and provide financial support to the child care organizations that give parents and those who work in child care a chance to be heard.
Visit the Canadian Centre for Policy Alternatives' website for the full study, Time Out: Child care fees in Canada 2017.