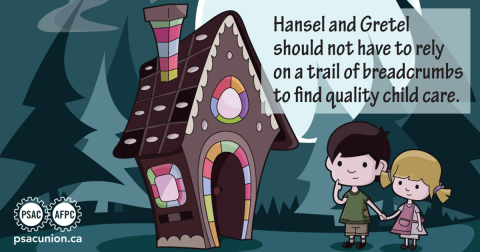 PSAC, along with the Child Care Advocacy Association of Canada (CCAAC) and others, is pushing the federal government to take leadership and build a quality, affordable child care system that all families can access wherever they live.
On March 21, the Child Care Advocacy Association of Canada appeared before the House of Commons  Standing Committee on the Status of Women to provide their view on what a national child care system should look like.
Get the policy framework right
Building a child care system to meet Canadians' needs will take at least a decade. It is critical that the federal government commit for the long-haul and put in place foundational building blocks that will stand the test of time.
The federal government must work with the provincial and territorial governments to develop a sound, extensive policy approach to  early childhood education and child care. The system must be a fully funded, high quality inclusive public service that all Canadians can access regardless of their economic circumstances, place of residence or the child care needs of their children.
While the provinces and territories have constitutional jurisdiction over the delivery of child care services, only the federal government has the fiscal capacity to drive the change.
Needs of Indigenous communities must be addressed
The early childhood education and child care needs of Indigenous communities must be addressed through a separate and distinct policy framework developed by both levels of government and representatives of Canada's Indigenous Peoples.
Truth and reconciliation demands nothing less, and the law requires that Indigenous children's services receive equal funding to those provided for non-Indigenous children.
Federal funding still falls short
Canadians won't see more or improved child care services unless the federal government bumps up its financial support each year.
Advocates for affordable child care applaud the federal government's commitment to multi-year funding for early childhood education and child care in the 2017 budget. However, budgeted increases in the annual allocations are too small in the first years to finance the kind of improvements in access, affordability and quality that could be achieved and that is so urgently needed.
"We are happy to see a federal government make a long-term federal commitment because it has been a long time since we've seen federal leadership in this area but we are disappointed the budget is not more ambitious in its spending especially at the start of the ten-year period," said Morna Ballantyne, Executive Director of the CCAAC.
It's 2017. It is time to ensure Canadians finally get what we all know is an essential ramp to women's economic equality.