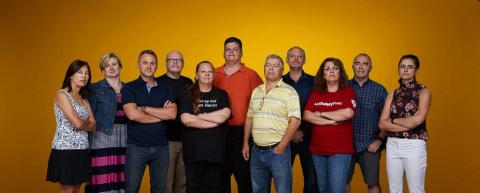 A tentative agreement between the Public Service Alliance Canada and the Canadian Food Inspection Agency has been reached. The deal, covering more than 4,000 workers, includes a host of improvements to the collective agreement, and your bargaining team managed to remove all concessions from the table.
Many improvements to the collective agreement were achieved including:
A 1.25% economic increase for each year of a 4-year agreement expiring on December 31, 2018.
Further details of the tentative agreement will be released to the public following the ratification of the agreement. Members should check this site regularly for up to date news on their new collective agreement.
"I am incredibly proud of our negotiating team," said Robyn Benson, PSAC National President. "It is through their strength and dedication, and the members supporting them, that we were able to prevent concessions to our sick leave and hours of work while gaining meaningful improvements for workers."
"We feel confident presenting this deal to our membership," she added.
CFIA members serving across Canada
CFIA workers perform a wide variety of jobs that safeguard the food that Canadians consume, as well as protecting the country's plant and animal health resources through its inspection and regulatory programs. This unit falls under the Public Service Labour Relations Act.
Stay informed and get involved
Our bargaining team will keep you informed throughout this process.
To stay informed and get involved:
Sign up for bargaining updates and make sure your membership information is up to date.
Check our national website.
Talk to your colleagues about our work contract, benefits and protections.
Participate in any upcoming information sessions in your region.
PSAC at CFIA – Stronger Together! 
Our bargaining team: