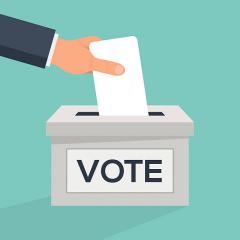 Thank you to all CFIA members who have embarked on the e-vote process and cast their vote.  This message is intended for all CFIA members who have not participated in the tentative agreement vote process to date.
It's a simple two-step process! 
Find a webinar/meeting on your regional website; register and listen to a 20 minute presentation on your tentative agreement. You have the option to stay on the session for the Q&A session after the presentation or;
Once you have heard the presentation you can log off the session and click on the link in step two to vote. 
Both attendance at the webinar session and casting your ballot can be accomplished by phone, but you still must register for the webinar session as this will activate your Personal Identification Number (PIN) so you can vote.
STEP ONE - ATTEND A MEETING
Click on your region, find a webinar and register to attend or find a face to face meeting in your region. 
Atlantic: http://psacatlantic.ca/updates/cfia-bargaining-information-sessions
British Columbia: http://psacbc.com/cfia-tentative-agreement-2018-information-sessions-bc-update
National Capital Region:  http://psac-ncr.com/events/canadian-food-inspection-agency-ratification-info-sessions-votes-jan-30-feb-20
Ontario:  http://ontario.psac.com/psac-ontario-webinars-re-cfia-tentative-agreement-vote
Prairies:  Webinars:  http://prairies.psac.com/node/9901 
Face to Face: http://prairies.psac.com/node/9905
Quebec: http://afpcquebec.com/fr/evenements/rencontre-dinformation-sur-lentente-de-principe-pour-membres-de-lacia
STEP TWO: CAST YOUR BALLOT
You can vote on the tentative agreement by telephone, smartphone or online. As stated above, you must attend an information session before voting.
Using the PIN that was sent to you by mail or your home e-mail go to http://www.psac-afpc.isivote.com and follow the instructions or to vote by phone, call the voting phone number at 1-888-359-2301 and follow the instructions.
If you have any more questions about the CFIA vote or have any issues voting contact the CFIA vote hotline: 1-888-281-8683.