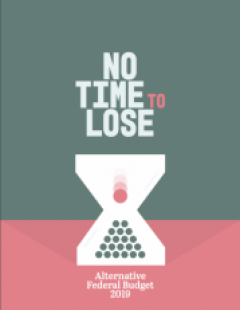 The Canadian Centre for Policy Alternatives released its 2019 Alternative Federal Budget (AFB).
Under the AFB plan, No Time To Lose, the 95 per cent of Canadian families who earn less than $254,000 a year will be better off on average due to both tax and transfer changes, and new social programs including a long overdue national pharmacare plan, universal child care and free tuition. This can all be achieved while maintaining historically low deficits.
The fully costed AFB plan shows that Canada can afford to:
Eliminate the gender employment gap, which will add 4% to Canada's real GDP;

Lower the poverty rate by 50% within three years;

Slash the child poverty rate by a quarter and the senior poverty rate by roughly 40%, while doing a better job at protecting pensions;

Invest $5 billion in First Nations infrastructure over three years;

Implement single-payer universal pharmacare, saving up to $11.5 billion across the country; and,

Implement a "just transition" plan to support workers and communities as Canada moves away from fossil fuels on the path toward a clean economy.
Quality public service
To ensure that Canadians receive quality public services the AFB proposes to:
Launch a public inquiry into the culture that created the Phoenix pay system, the Social Security Tribunal debacle and other monumental policy failures.
 
Continue to reinvest in public service capacity for service delivery
 
Reinvest in internal training and succession planning to support in-house service delivery
 
Ensure that all large contracting-out and privatization initiatives are subject to transparent public-interest and risk-analysis processes
 
Fund the Canada Infrastructure Bank through government borrowing
 
Implement stronger whistleblower protections