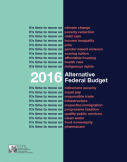 The Canadian Centre for Policy Alternatives today released its 2016 Alternative Federal Budget (AFB). 
The AFB projects a federal deficit of $29.2 billion for 2016-17 when Liberal platform measures are taken into account. It also delivers a blueprint showing how the government could take on a $37.9 billion deficit and still maintain Canada's debt-to-GDP ratio.
The AFB proposes to reverse cuts made to the public service and introduce a program review process to make the public service more transparent and adaptive to the needs of everyone, to be ramped up to $2 billion per year.