Members of the Union of Postal Communications Employees met in Ottawa last week, to discuss the challenges they face in their workplaces and to prepare for the upcoming round of bargaining with Canada Post.
The issues that had these members talking included job security, pensions, sick leave and the need for healthier work environments.

Claudia Labonté has been a process engineer at Canada Post in Ottawa for the last 16 years and is the chief shop steward and secretary-treasurer for her local. She said that the bargaining conference confirmed that fact that members across Canada share similar concerns, especially around sick leave.
Canada Post implemented a short-term disability plan to replace employees' sick leave in 2008. Labonté said this has led to some "horror stories," where workers are denied sick leave, despite recommendations from their doctors.
"It's an issue to have a third party decide whether or not you are sick enough, rather than your family doctor," said Labonté.
Sick leave appeals

Hélène Arbique agrees. She has been employed at Canada Post for 35 years and is the president of the Montreal local and a national executive officer for UPCE.
"The fact that the sick leave has been reduced is causing major issues, especially when sick leave is refused and people have to appeal," she said.
Another issue for many members is the "two-tier" pension system for UPCE members, where younger employees are only eligible for a defined contribution plan.
"We believe in a defined benefit plan and right now, some of our members have a defined contribution plan," said Jeannie Baldwin, PSAC's regional executive vice-president for the Atlantic. "When people retire, they want to know exactly how much they will have to rely on. They do not want to have to use food banks."
Get involved
For BT Nguyen, the way for more recent employees to see improvements to their pensions, sick leave and job security is to get involved in the union. Nguyen has worked at the Hamilton Canada Post plant for two years, and has been involved with UPCE/PSAC ever since.
"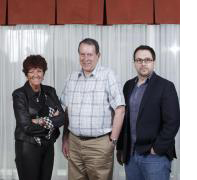 The union protects employees with job security and benefits and if you want the union to continue to do that work, you need to be active and support the union."
Baldwin is confident that this kind of solidarity will lead to a better contract with Canada Post.
"We have an engaged group, committed to improving their working conditions. So hopefully the employer will come to the table and bargain in good faith and show our members that Canada Post respects the work they do."
UPCE bargaining team elected at bargaining conference
At their most recent bargaining conference, PSAC members who work at Canada Post elected the team that will negotiate their next collective agreement with their employer.
The team members:
Brian Collins, Atlantic
Andrea Rankin, West
Denise Tremblay, NCR
Jacqueline Gujarati, Ontario
Joey De La Fontaine, Québec
They will be joined at the bargaining table by Tom Milne (PSAC negotiator) and Janson Labond (research officer).
We will keep you updated as bargaining progresses.