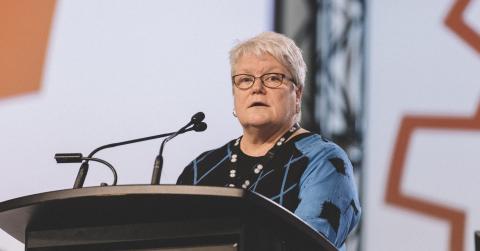 In her opening address to PSAC's national convention, Robyn Benson praised PSAC members for making significant headway in the three years since the last convention.
"We are strong, united and victorious," said Benson. "Our members have better contracts than they did three years ago. Their wages are up. Government spending on public services is on the rise in most parts of the country. Our union is growing again in size and power." 
"For the first time in almost half a century, we've seen major improvements to public programs—like the Canada Pension Plan. We are on the move. We're no longer trying to hold on to what we have; we are breaking new ground."
Benson reminded delegates that PSAC does not back down. "When governments and employers attack, we fight back. When employers demand concessions, we refuse. When governments attack rights, we defend them."
"And the credit for all of this belongs to you— as well as the thousands of PSAC activists and members back home. It is because of your efforts and your leadership that we made headway. It is because you pushed and demanded more."
Benson outlined some of the union's achievements in the last three years.
Negotiating new language in collective agreements such as leave from work for members facing domestic violence
Mobilizing members to take action on child care and seeing governments moving in the right direction
Working in coalition on pay equity that led to a new, proactive federal law expected this fall
Opposing airport privatization with result the government is not proceeding 
The impact of Phoenix
Benson acknowledged the thousands of members dealing everyday with the fallout of messed up pay and in constant fear that they will be incorrectly paid in the future. She also praised the members at the Miramichi pay centre who continue to face relentless pressure to do more, faster and without proper support.
"We must join together and demand that the problem not only be fixed but that our members get compensated for the damage done", said Benson. "It's time for us to say, if you won't or can't respect our contracts and pay the proper pay every payday, then we will force you to pay in other ways."  
Elections are an opportunity 
Benson urged delegates to see the lead up to provincial elections and the 2019 federal election as a good time for workers to demand more of governments and political parties, as well as an opportunity to engage our members in making Canada a better place to live and work, with governments that care about working people.
Benson noted that racialized Canadians and Indigenous peoples are still waiting for the promised reforms to a justice system, as examples. "The First Nations drinking water crisis continues and First Nations children are still getting less from the Canadian government than other kids despite four non-compliance orders by the Canadian Human Rights Tribunal," she said. 
Thank you to the membership and staff
"Members are, and always will be, the backbone of our great union—I want to thank everyone from the bottom of my heart for all that you have done," said Benson. "I also thank PSAC and Component staff for their loyalty to the members, their support and contributions."
"Our strength and solidarity come from the convictions and actions of members. We don't get very far in bargaining, in political action, or in campaigns when our members don't believe, if they aren't involved or if they won't take action.
Benson encouraged delegates to keep building solidarity between members and with the members.
"Keep looking for ways to have more members active in your locals; give them responsibility and authority; teach them skills; and bolster their courage to act for themselves and others." 
"If you do that, we will keep growing in numbers, in diversity and strength. PSAC will become the unstoppable force we all want our union to be," she concluded.
To read the full report of the PSAC National President, click here.