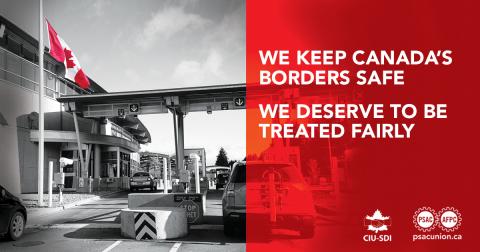 Yesterday, our bargaining team for the FB group reached a tentative agreement with the Treasury Board and Canada Border Services Agency (CBSA), securing a respectful and fair collective agreement for these workers.
"This is a great victory for our members. After years of hard work, they are finally being recognized as law enforcement officers with the respect and salaries they deserve", said Robyn Benson, National President of the Public Service Alliance of Canada (PSAC).
This significant victory was possible because of the strength of our 180,000 PSAC members and the solidarity shown throughout the process. It came after four years of talks, two court challenges, a charter challenge, several unfair labour practice charges, the mobilization of thousands of members, two media campaigns and over a full week of non-stop negotiations.
Some highlights of the deal include wage increases to bring our officers on-par with other law enforcement agencies, resisting concessions on family and sick leave, fighting for fair treatment with regards to discipline, and important workforce adjustments.
 "Now that the government recognizes the importance of front-line border services, we will hold their feet to the fire. The government has to staff and add the resources needed for officers to perform the duties expected of them and protect Canadians.", said Benson.
The FB bargaining team unanimously recommends the ratification of this new agreement.
More details can be found here.