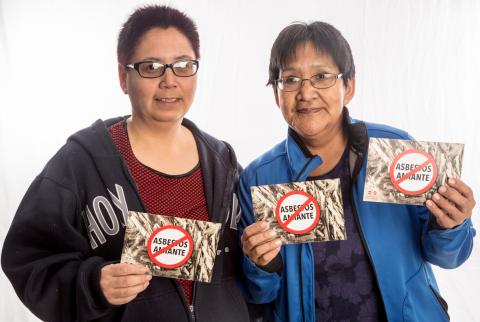 PSAC is taking the ongoing campaign to ban asbestos directly to the Prime Minister.
National President Robyn Benson launched the union's new ban asbestos postcard initiative during PSAC's National Health and Safety conference in Montreal last weekend.  
"Asbestos is the leading cause of workplace-related deaths in Canada. The Liberal government must take action to end this epidemic," said Benson. "They must take the necessary steps to achieve a comprehensive ban on asbestos."
Ban asbestos postcard campaign calls on federal government to:
Immediately pass legislation banning the use, export and import of all asbestos-containing materials
Create a national public registry of asbestos-containing buildings accessible to the public
In collaboration with provincial, territorial and First Nations governments, establish a national public registry of asbestos-related injuries and fatalities
Get the postcard
If you would like to get a copy of the postcard, get in touch with your regional office. Copies will be distributed by the end of the month.
Pictures from Health and Safety Conference