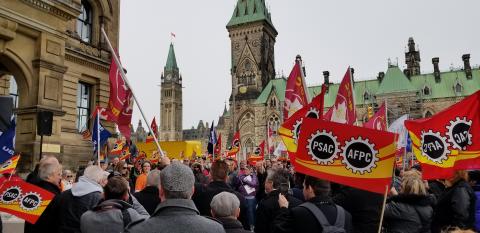 A Quebec judge has ruled that the grievance process available to unionized employees in the federal public service is well equipped to deal with the fallout of Phoenix pay problems. The judge certified a class action lawsuit against the Government of Canada for two groups of employees that don't have access to the existing process: casuals and students.
The class action suit will permit those employees without access to the grievance process to advance their claims in court. The class action suit is a long and expensive process that has only just begun for these employees.
Thankfully, the majority of federal public service workers are already part of a certified class – the bargaining units of their union – and have access to independent adjudication through the Federal Public Sector Labour Relations and Employment Board. The unions representing the various bargaining units are well into negotiations with the government for damages to compensate employees for the stress caused by and the time spent dealing with pay problems.
PSAC encourages its members who are experiencing pay problems to avail themselves of the measures our union has forced the employer to put in place, such as the claims process for out of pocket expenses and access to emergency pay for those who are not paid, underpaid or missing entitlements.
To file a grievance or for help navigating pay problems, contact the PSAC representative in your work place, your component or nearest PSAC regional office.