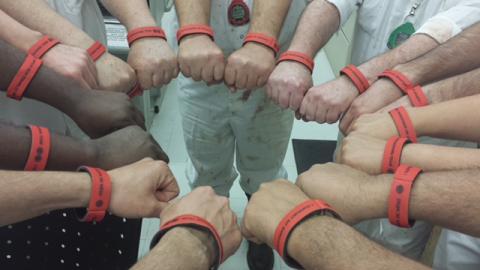 The Employer and our CFIA bargaining team met in Ottawa on December 6 to 8, 2016.
Our team tabled and discussed a number of demands, including:
domestic violence leave provisions
a meat hygiene allowance
an allowance for compensation advisors
a fitness/wellness allowance
term employment
pre-retirement transition leave
leave with income averaging
self- funded leave
Our CFIA bargaining team has now tabled nearly all of our non-monetary proposals.  We are still waiting for a full response from the employer on these important demands.  We hope that progress can be made in the next sessions scheduled for January 17-19 and February 28-March 2.
Our union bargaining team is committed to making improvements to our collective agreement and is rejecting all concessions that will compromise our rights and benefits.
Domestic Violence Leave and Advocate Program
December 6 is the National Day of Remembrance and Action on Violence Against Women.  Our team has taken action by proposing paid leave for workers experiencing domestic violence.    We have also tabled an Advocate Program to help provide important support to employees experiencing violence.  We had a powerful discussion with the employer about the impact of domestic violence on workers and its effect in the workplace. We presented survey report findings from a recent Canadian Labour Congress/ University of Western Ontario survey on the topic demonstrating the urgency of this problem.
Phoenix pay system
Once again we raised more concerns about the serious problems that continue to plague the Phoenix pay system.
CFIA members who are still facing pay issues as a result of the new system should contact the employer at 1888HRHInfo@inspection.gc.ca or the pay centre. 
Members are entitled to access emergency pay if they have not received their pay on time.
More information and updates on Phoenix are available on the PSAC website.
Stay informed and get involved
The PSAC Negotiator and our regional bargaining team members have already visited workplaces in Guelph, Toronto, Saskatoon, Regina, Brandon, Winnipeg, Nova Scotia, PEI, Vancouver and Surrey.  Visits in other regions are pending.
Our bargaining team will keep you informed throughout this process.
To stay informed and get involved:
Sign up for bargaining updates and make sure your membership information is up to date.
Check our national website
Talk to your colleagues about our work contract, benefits and protections.
Participate in any upcoming information sessions in your region
Spread the word so we can keep the pressure on the employer and fight back against their concessions!
Our bargaining team: