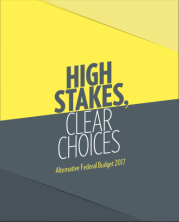 The Canadian Centre for Policy Alternatives today released its 2017 Alternative Federal Budget (AFB). 
High Stakes, Clear Choices: Alternative Federal Budget 2017 would address inequality, poverty, climate change and job creation.
Some of its proposed actions include:
Establishing a federal minimum wage of $15 an hour, indexed to inflation
Lowering the eligibility requirement for employment insurance
Directing funds raised through carbon taxes to low-income households
Providing families access to affordable child care and home care, and ensuring workers who provide these services are paid a living wage
Ending the special tax treatment Canada gives to domestic and foreign corporations
Quality public service
To ensure that Canadians receive quality public services the AFB proposes to:
Hire a sufficient number of federal public service employees
Create more permanent jobs in the federal public service
Create an infrastructure bank that is funded through public borrowing and not through P3s
The AFB proves there is a clear path to a more equal and sustainable future.