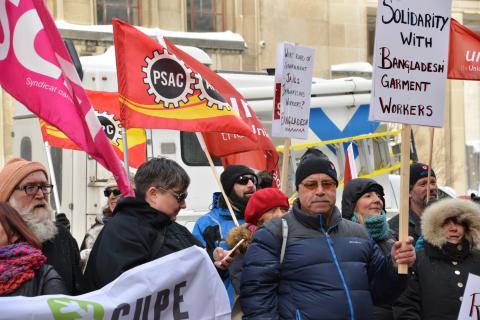 In Bangladesh, 35 unionists and garment workers were arrested for participating in protests in December 2016. After a union campaign, the majority have since been released, and the remaining should be released soon.
The international campaign against the Bangladesh government's crackdown on the labour movement was led by the Clean Clothes Campaign, Amnesty International, Global Unions, IndustriALL and UNI.
Canadian labour organizations mobilize
In Canada, the Canadian Labour Congress, PSAC, CUPE, USW, UNIFOR, UFCW and OSSTF mobilized to call for the release of the imprisoned leaders. 
In a letter to Foreign Affairs Minister Chrystia Freeland, the unions have demanded that the Canadian government ensure that the garments we import from Bangladesh are sourced responsibly and manufactured under conditions that respect international human and labour rights.
In 2016, Canada imported about $1.4 billion worth of textile and garments from Bangladesh, duty free under the General Preferential Tariff.