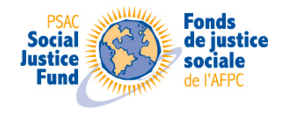 PSAC today launched a new Social Justice Fund website to raise awareness about the union's contribution to the broader social justice movement.
"The accomplishments we've achieved through PSAC's Social Justice Fund reflect our struggle for rights in the workplace," said PSAC National President Robyn Benson.
"We believe PSAC's success in defending the rights of our members is directly related to the struggles and advancement of workers in Canada and around the world."
The new website explains the SJF's mission, history and governing structure. It also features articles describing the projects and initiatives SJF has been involved in in recent years.
From the home page, "fair trade plus" organic coffee can be ordered from Café Justicia, produced in Guatemala.