PSAC women have many reasons to be proud!  Thanks to their activism and commitment, our union has been able to win important improvements in the lives of all PSAC members.
From the 1980 ground breaking strike by women federal public service workers in the Clerical and Regulatory (CR) bargaining unit to bargaining tables across the country, PSAC members have made employers provide decent working conditions and respect workers' human rights.
PSAC has used grievances, human rights complaints and referral to the courts including the Supreme Court of Canada, sometimes taking decades to resolve, in order to ensure employers are living up to their obligations to our members.
In order to win systemic change that will benefit all women – and indeed all workers – PSAC members have lobbied and mobilized in the union and in their communities to support employment equity, to defend the long-gun registry, to adopt pro-active pay equity laws and to establish a national child care system.
PSAC women, collectively and individually, have ensured that a strong commitment to women's equality and to equity for all disadvantaged groups is a union priority.
In 1994 the union adopted a detailed policy, Women and the Alliance: From the Margins to the Mainstream, which was a blueprint for achieving women's equality in the workplace, in society and in the union. Over the years, PSAC women have been active in Regional Women's Committees, the national Equal Opportunities Committee, and more recently the National Human Rights Committee.  Through these committees and at regional and national women's conferences they discuss, strategize, develop action plans and adopt resolutions that have resulted in the union's steadfast commitment to defend women's rights and to support the achievement of equality.
The union's Constitution now recognizes that every PSAC member is entitled to be free from harassment both in the union and the workplace. Education programs include courses and materials to better equip PSAC women members to take active and leadership roles in their union.
There have been many victories but many challenges still remain to be faced, including the current concerted attempts to undermine the legitimacy of unions and workers' rights.
Together PSAC women will continue to find ways to not only defend their rights but to challenge inequality and ensure all women and men benefit equally from better working conditions, better work/life balance and full respect for their human rights.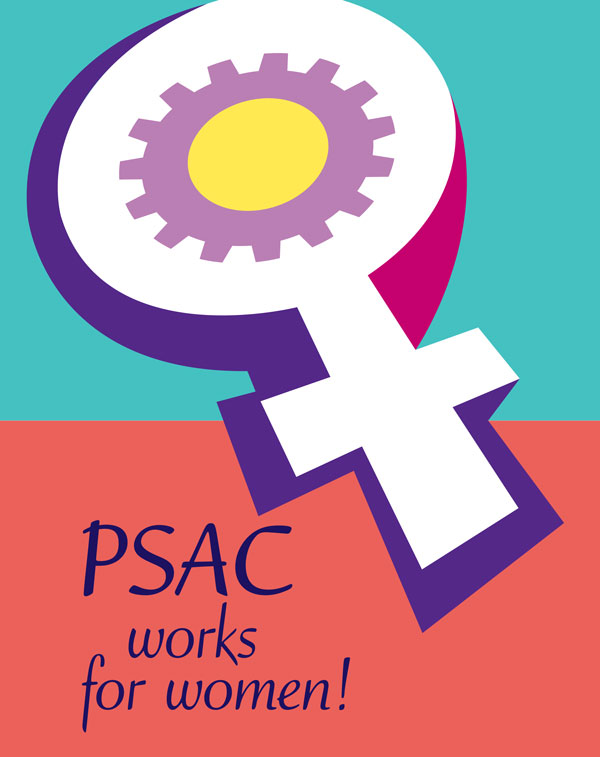 To obtain printed copies of this booklet, please contact your regional office.