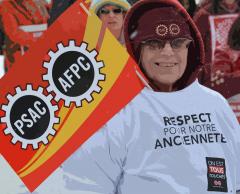 This week, PSAC began bargaining with Treasury Board, negotiations that will impact more than 100,000 members.
Before sitting down at the table with the employer, we held meetings with our members all across the country. We heard loud and clear that PSAC members want to protect strong public services for all Canadians.
The following principles will guide us at the bargaining table:
We will continue to work to ensure for high quality public services to improve the quality of life for all Canadians.
We will take a strong, principled and determined stand that protects fair working conditions and decent living standards for our members and for all workers.
We will work hard to secure decent working conditions and quality public services that leave every future generation better off.
There is no doubt that this is an important round of bargaining – one that will challenge all of us to work together strategically, sometimes in new and creative ways. 
Top of mind among all federal public sector workers is the government's attempts to dismantle our sick leave system and replace it with a short-term disability plan.
Treasury Board negotiators do not table any specific proposals on sick leave
Treasury Board indicated that the government wishes to move to a short-term disability plan, however the employer did not yet table any specific sick leave proposals.
PSAC has been clear that any changes to working conditions needed to be negotiated at the bargaining table, and not in backrooms or in the media.
Paid sick leave is enshrined in our collective agreements and we believe Treasury Board's effort to unilaterally push its "wellness strategy" constitutes bad faith bargaining, interference and a violation of the Public Service Labour Relations Act.
This is in addition to the legal action that we are taking against the government's attacks on collective bargaining in Bill C-4 and Bill C-31.
Insulting wage proposal tabled
Treasury Board tabled a wage proposal of 0.5% per year for four years. This amounts to a wage cut, when inflation is factored in.