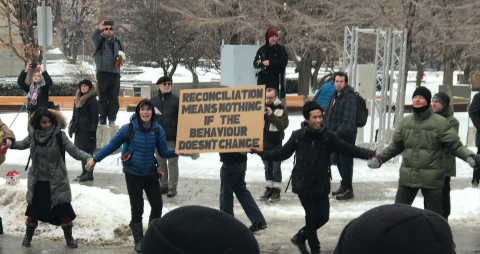 Last week, RCMP officers arrested and detained several Wet'suwet'en people on their unceded territory while they were defending their land from a major pipeline development. The Unist'ot'en community has had a camp set up since 2009 to block TransCanada Corp from building the Coastal GasLink pipeline.
PSAC's National Indigenous Peoples' Circle Representatives have been working to protect and defend the rights of Indigenous Peoples in Canada and abroad for a number of years. We condemn the injunction and arrest of those at Unist'ot'en Camp. We call on the provincial and federal governments to respect a nation-to-nation relationship with hereditary leadership at Unist'ot'en.
We ask those in the labour movement to stand in solidarity with the defenders at Unist'ot'en Camp with the goal of defeating this injunction and re-establishing the occupation of the Unist ot'en's healing camp. 
Together let's show all levels of government that they cannot trample on Indigenous rights in favour of private oil and gas interests. To learn more, please visit the Unist'ot'en website at: http://unistoten.camp/