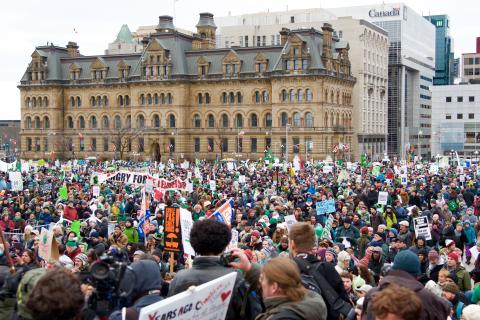 PSAC was one of the partners of the 100% Possible March for Climate Solutions and Justice that took place Sunday, November 29. It coincided with the start of the UN Climate Change Conference 2015 (COP21) in Paris.
Close to 25,000 people marched through the streets of Ottawa for climate justice, making it one of the largest environment rallies in the city's history. The march was organized by Aboriginal leaders, environmental activists, community partners and labour unions.
The rally sent a strong and clear message to the newly elected government that a renewable energy economy is not only necessary by 2050, but 100% possible.
Ottawa's rally was one of approximately 1,700 climate change events that were held around the globe.
Background
A recent poll found 73% of Canadians believe that "climate change presents a significant threat to our economic future".
The rally was organized on the eve of the UN Climate Change Conference 2015 (COP21) that begins November 30 in Paris.
Prime Minister Justin Trudeau is set to attend COP21 with a large Canadian delegation of provincial premiers, federal party leaders, ministers and mayors.