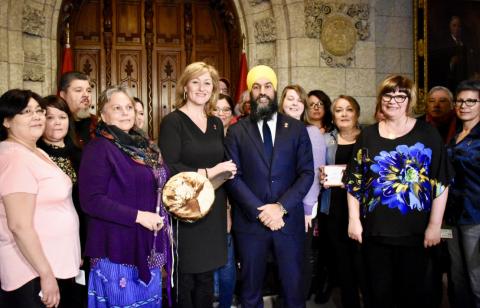 As part of PSAC's human rights lobbying on Parliament Hill, PSAC members joined NDP MPs in urging this government to ensure the success of the National Inquiry into Missing and Murdered Indigenous Women and Girls (MMIWG).
"We have waited long enough. This government must ensure that the Inquiry leads to justice and healing for all affected by this ongoing tragedy," said Magali Picard, National Executive Vice-President. "Indigenous women and girls, and their families, deserve answers. They deserve peace. And they deserve an inquiry that will actually deliver those things."
Just one day ahead of the National Day of Remembrance and Action on Violence Against Women, PSAC has restated its demand that the government take real steps to bring justice for the hundreds of missing and murdered Indigenous women and girls who have lost their lives to gender-based violence in Canada.
Enough words, time for action
PSAC and the National Indigenous Peoples' Circle are calling on this government to implement the following actions to ensure the success of the Inquiry:
An informative, transparent and accountable communications process throughout the Inquiry.
Priority must be given to listening to the families of missing and murdered Indigenous women and girls, including First Nations, Inuit and Métis women. Their needs must be placed at the forefront of the investigation, which includes culturally-based counselling and trauma support for witnesses.
The Inquiry must include the development of a national action plan to end violence against Indigenous women.
The Government of Canada must fully implement all recommendations made in the Inquiry.
Red Dress Campaign
This summer, PSAC launched the Red Dress Campaign to raise awareness of the national issue of missing and murdered Indigenous women and girls in Canada, and to urge this government to bolster the efforts of the National MMIWG Inquiry.
PSAC's National Indigenous People's Circle and the National Human Rights Council Indigenous Working Group partnered with Métis artist Jaime Black to develop the Red Dress pin in solidarity with all the Indigenous women who have been a victim or survivor of violence.
PSAC distributed 26,000 pins across the country. Thousands of PSAC members and allies signed postcards and an online petition pledging their support and demanding justice for Indigenous women and girls, and their families.