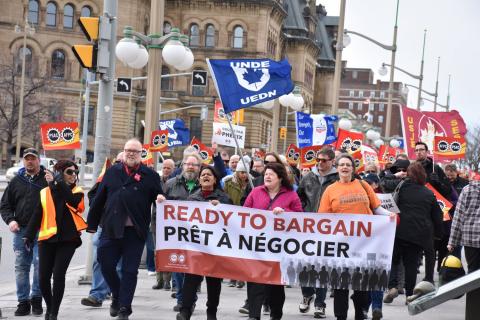 This week, bargaining teams representing over 90,000 PSAC members will come together to begin finalizing the demands they will take to the Government in the upcoming round of Treasury Board bargaining.
"For more than two years our members have endured countless hardships because of the Phoenix pay system fiasco, but they continued to show up to work every day and deliver the critical services Canadians depend on," said PSAC National President Chris Aylward. "We expect the Liberal government to come to the table with a deal that reflects that level of commitment and the value of their work."
The thousands of federal public service workers employed by Treasury Board will negotiate new collective agreements under 4 different groups:
From May 29 to July 12, PSAC bargaining teams will begin the negotiation process through a number of meetings with the Treasury Board to exchange both group-specific proposals and common issues affecting all employees.
1st meeting (May 29-30)
2nd meeting (June 20-21)
3rd meeting (July 10-12)
To get the latest bargaining updates, subscribe to our newsletter or update your personal profile.