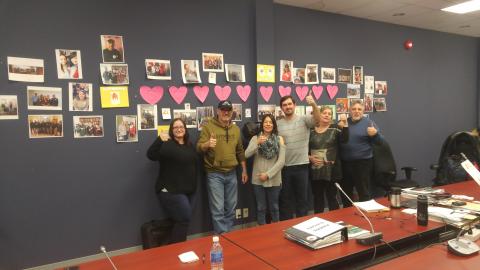 Late Friday, February 16, 2018, our Parks bargaining team reached a tentative agreement with the Agency, which the team unanimously recommends. This week, the member's valentines themed messages of support, that poured in from throughout the country, helped our team make the gains on our priority issues. Our team thanks the membership for their solidarity throughout this lengthy round.
The Public Service Alliance of Canada will be holding an electronic vote for members of the Parks Canada Agency to ratify the tentative agreement between PSAC and Parks Canada.
Meetings will be held by webinar for all members, in addition to face-to-face meetings organized in some regions.
More information about meeting dates and locations in your area will be posted shortly. As per Regulation 15 of the PSAC Constitution, all members must attend a meeting – either by webinar or in-person – in order to cast a vote.
Update personal information
Before voting begins, Parks Canada members should
log into their PSAC Member Portal and make sure their mailing address and personal email are up to date because voting PIN numbers will be sent by their preferred method of communication.
It's also crucial that Parks Canada members ensure they remain PSAC members in good standing before voting begins. Due to issues with the Phoenix pay system, members who ought to be in good standing have been rendered not in good standing because their dues have abruptly stopped (despite their continued employment).  A new online form is now available where members can request to remain in good standing in absence of union dues.
More details to follow.