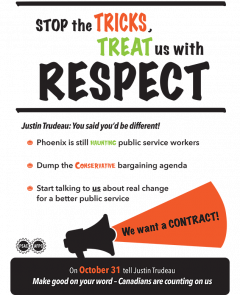 On October 31, PSAC members across the country will be reminding Prime Minister Trudeau to make good on his word to respect public services and the people who provide them.
"Last year, Mr. Trudeau wrote to all public service workers promising to treat them with respect and restore the cuts made by Stephen Harper," said Robyn Benson, PSAC National President. "It has been a year since the election. The tone has changed, but it's now time for action."
Liberal government, Conservative agenda
Instead of moving forward in bargaining, the government has continued to push the Conservative agenda.
"Under the Liberals, Treasury Board has had five meetings with us, and almost a year to improve their offer to reflect Mr. Trudeau's promise to show respect for the public service," said Benson.
Haunted by Phoenix
As negotiations with Treasury Board for over 90,000 PSAC members remains unresolved, Phoenix continues to haunt public service workers. The pay system, launched in January of this year, is still causing problems for thousands.
The government had promised that by October 31, the 80,000 case backlog reported in June would be cleared. However, the government announced on October 19 that it would not meet this deadline.
In addition to this backlog, many more PSAC members have had pay problems since June that are also outstanding. The exact number is not clear, as the government has been unwilling to disclose this figure.
Public service workers deserve to be paid correctly and on time for the work that they do.
Come out on October 31
On October 31, join with other PSAC members across the country to deliver a strong message:
Dump the Conservative bargaining agenda
Start talking to us about real change for a better public service
Make good on your word – Canadians are counting on us
We encourage all PSAC members in the federal public service to participate. Please contact your local, or the closest PSAC regional office, to find out how you can participate.
Check out the PSAC website, Facebook, and Twitter for updates.