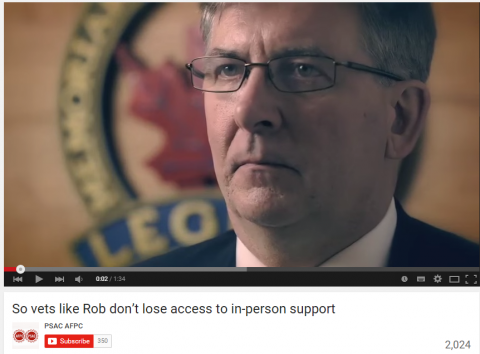 The federal government is attempting to silence veterans who are speaking out about the devastating impact of Veterans Affairs office closures.
On June 3, PSAC launched a series of video testimonials, where veterans speak plainly about how the closure of Veterans Affairs offices have affected their lives.
The next day, Veterans Affairs Minister Erin O'Toole sent a letter to PSAC President Robyn Benson demanding that she "correct the videos, or remove them." He accuses the union of "sow[ing] anxiety and fear amongst veterans and their families" and disputes the veterans' own accounts of their struggles to access services in their communities. 
Canadian Press was also provided with a copy of the letter by an unnamed source and reported on its contents yesterday. 
"I am shocked that Minister O'Toole would attempt to silence the voices of veterans who are speaking out. These veterans speak for themselves and continue to do so," said Benson.
"They are saying that they feel abandoned because there is no longer a Veterans Affairs office in their community to walk into and receive immediate and face-to-face access to services.  Our members provide critical and necessary services and struggle to keep up with the demand.
We stand with veterans and we stand with supporting their demand to re-open Veterans Affairs offices."
Support veterans. Send a letter to Minister O'Toole and demand that the government re-open Veterans Affairs offices.