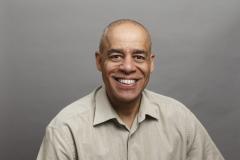 Larry Rousseau was first elected PSAC Regional Executive Vice President for the National Capital Region in June 2011. He was re-elected for a second term in May 2014.
Previously, Brother Rousseau was a Regional Vice President with the Union of National Employees, and an employee of Statistics Canada.
His first experience in the labour movement was when he started as a filing and stockroom clerk in the mail room of the Canadian Labour Congress at the age of 18. Shortly thereafter, he was elected shop steward for the Office and Professional Employees International Union Local 225 (now COPE). His involvement in the GLBT, peace and social activist movements has been an integral part of his engagement and commitment for social justice.