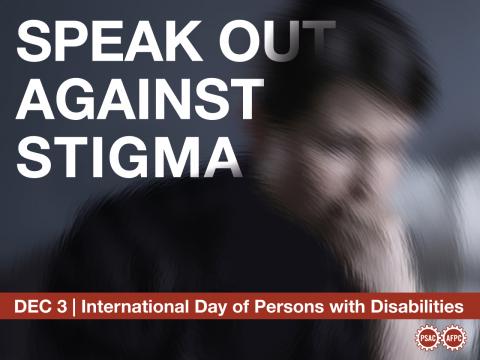 Since the UN proclaimed the International Day for Persons with Disabilities in 1992, December 3 has provided an opportunity to raise awareness, understanding and support for the dignity, rights and well-being of persons with disabilities as well as the benefits of integrating persons with disabilities in every aspect of political, social, economic and cultural life.
The United Nations says there are more than 1 billion people living with some form of disability. They face not only physical barriers but also social, economic and attitudinal barriers.  As a result, many live in poverty and are under-employed or unemployed.
To combat the discrimination faced by people with disabilities, the United Nations adopted the Convention on the Rights of Persons with Disabilities. The Convention calls for the full integration of people with disabilities in all aspects of our communities and workplaces. Despite ratifying the Convention in 2010, the federal government has yet to implement the Convention, ratify the Optional Protocol or even establish an oversight body that would monitor Canada's progress as outlined in the Convention. 
PSAC is calling for:
concrete actions to ensure workers with disabilities are accommodated;
advocacy and support for workers dealing with mental health disabilities; and
an end to the Conservative agenda to decrease public services, programs and jobs that benefit, marginalized communities, including persons with disabilities.
With the cuts to public services there is even less support and resources for people with disabilities. One specific example is the closing of regional Veteran's Affairs offices for those who have developed a disability and require one-on-one.
The PSAC encourages all members, including members with disabilities to not only celebrate the many contributions of persons with disabilities but also to support and raise awareness of the struggles and challenges still facing them today.