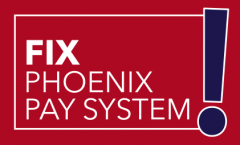 Testifying at the hearing into PSAC's unfair labour practice complaint this week with the Public Service Labour Relations and Employment Board, a government executive blamed workers for the problems with the Phoenix payroll system.
The government witness directed the blame at public service workers themselves and compensation workers at Miramchi for not inputting information correctly.
"It was disheartening to hear government witnesses testify that there are no "real" Phoenix problems, and that rank–and-file workers are to blame for any pay problems," said Robyn Benson, PSAC's National President.
"What they have done is blame everybody else for this pay debacle except for the department that's responsible for paying the employees," said Chris Aylward, PSAC National Executive Vice President.
PSAC's warnings were ignored
Phoenix has profoundly damaged public service workers in multiple ways, placing in jeopardy their livelihood, health insurance coverage, privacy and security clearances, to name just a few of the many consequences.
"PSAC warned the government many times that the Miramichi workers did not have proper training, and asked for a delay in going live with Phoenix," added Chris Aylward, PSAC National Executive Vice President. "Ultimately, our warnings were ignored and they went ahead anyway."
PSAC filed this complaint so that the government would be held to account for the pay problems.
"We are asking the Board to instruct the government to pay its employees on time and accurately," concluded Aylward.