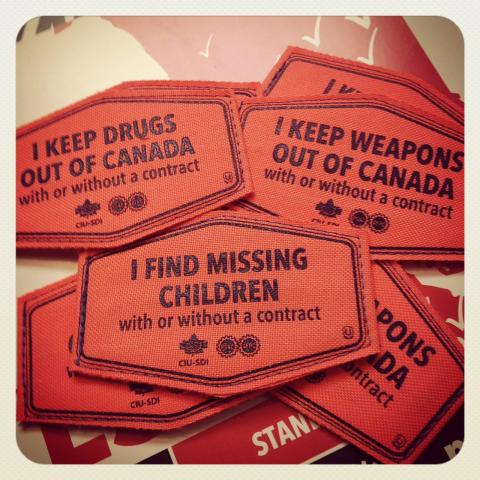 Our FB bargaining team met with Treasury Board and CBSA from November 18-20, to continue talks for a new collective agreement.
We reminded the employer that CBSA consistently rates near the very bottom in public service employee satisfaction. The demands that we've tabled in bargaining would provide protection against management abuse and ensure that union members at CBSA are treated with respect.
Fighting abuse of authority
Treasury Board President Tony Clement says that he has "zero tolerance" for workplace harassment. We have made proposals to provide protections in our collective agreement against abuse of authority, harassment, workplace surveillance and bullying. Yet the Treasury Board and CBSA have not agreed to any of our proposals in these areas. It's time for Minister Clement to put his money where his mouth is and agree to the workplace protections that we've proposed in this round of bargaining.  
Workforce adjustment
Our union is seeking significant changes to the Workforce Adjustment Appendix, the rules that govern how staff reductions are achieved in the federal public service. All PSAC bargaining teams made demands seeking to make the rules more transparent and reduce the anxiety that the process causes for workers.
We are seeking to preserve and improve public services, enhance protections against involuntary departures and ensure that our seniority be recognized.
At the FB table, we reiterated our position against the contracting out of work, specifically in regard to Inland Enforcement Officers and the work done by BSOs in air operations.
Government "go-to-work-sick" proposal
The government presented a second sick leave proposal that would still force workers to work while sick. It merely tweaks the proposal that Treasury Board tabled in September, which was soundly rejected by all PSAC teams. We will stand firm in our defense of sick leave and will not take concessions on this important issue.
Our union recently put forward a package of proposals aimed at making workplaces healthier for all federal employees.
While the government's sick leave proposal is bad for all PSAC members, approximately 70 per cent of the FB bargaining unit consists of shift-working, front line law enforcement officers who must meet stringent physical requirements. Treasury Board's short term disability plan is unacceptable to us and we told them so.
Our team joined all PSAC bargaining teams in rejecting this proposal. We are meeting again in January 2015.
For more information, and to see our proposals and those of the employer, visit psacunion.ca/fb