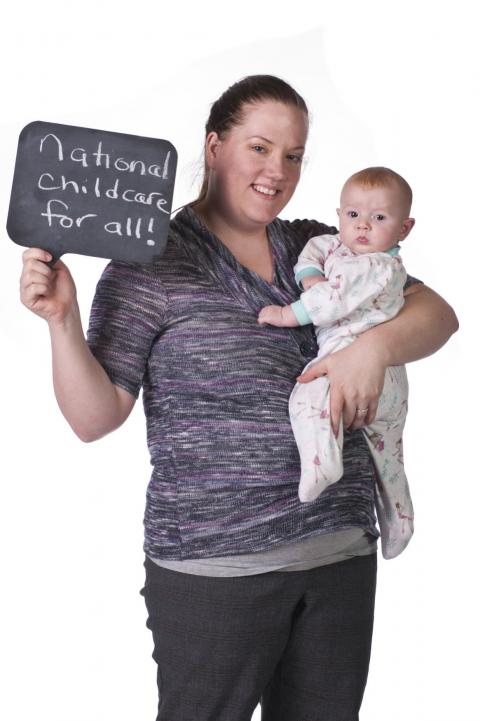 In the late 1970s, women made up just over three-quarters of the almost 47,000 workers in the federal government's Clerical and Regulatory (CR) bargaining unit.  
The members refused to accept the settlement package proposed by the leadership after their agreement expired in November 1979 and they were angered by the number of positions designated as essential services.  They began a series of spontaneous "wild cat" strikes to show both the employer and their union they were serious about their demands and ready to take action. Their strike vote in September 1980 proved this when 75 percent of the 90 percent of the members who voted said yes to a strike.
A full scale national strike that began on September 29 was declared illegal by the Public Service Staff Relations Board on October 4. Yet the strike continued and the striking clerks were joined by other PSAC members in a sympathy walk-out in spite of government threats of suspensions.  In the eyes of many, the PSAC became a "real" union that fall.
Finally, after 30 hours of intense bargaining with Treasury Board, a tentative agreement was reached that included:
pay increases of 10%, 9% and 4%, during the 2 year contract;
a signing bonus;
adoption leave, paternity leave, care and nurturing leave and family related leave.
And this was just a beginning. Over the years, the PSAC has been a leader in successfully negotiating provisions to help members balance work and family responsibilities. They include:
enhanced maternity and parental benefits;
maternity-related reassignment leave;
leave for custom adoption (Aboriginal families);
leave for medical appointments for pregnant employees;
leave for care of immediate family;
family-related responsibilities leave;
personal needs leave;
leave for the relocation of spouse;
bereavement leave;
education and career advancement leave;
personal and volunteer leave days;
improvements to sick and vacation leaves;
leave with income averaging;
other leave, with or without pay;
flexible work arrangements such as telework, compressed schedules and flexible hours.