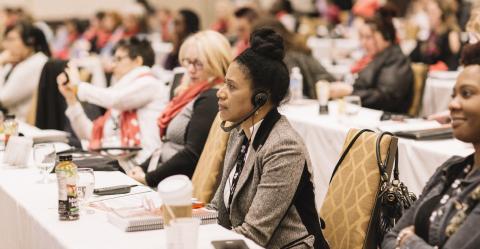 More than 500 PSAC members from five equity groups and their allies attended the union's triennial National Equity Conferences in Toronto last month to raise awareness, deepen their knowledge and strategize around issues of discrimination and equality.
With the theme "Equality at Work", the five-day gathering was the second time PSAC held the conferences for all five equity groups simultaneously in one location, allowing for the cross-sharing of issues and perspectives among members from racially visible, GLBT, Aboriginal, women and disability groups and communities.
"This gathering is taking place at a difficult moment in history," PSAC National President Robyn Benson said in her opening remarks, pointing to the election of a "racist misogynist" in the U.S. and the rise of extreme right-wing movements in Europe and Canada, including the recent attack at a Quebec mosque that killed six people and injured 19.
"We must use these memories to fuel our efforts to eradicate all forms of hate and oppression—whether rooted in Islamophobia, racism, colonialism, ableism, homophobia, transphobia or misogyny," Benson added. "Here and now, at this conference and beyond, we must keep organizing for equality until we win."
Workshops
The conference held plenaries where the five equity groups sat together during opening ceremonies and to listen to guest speakers. But each of the five equity groups had opportunities to break off into their respective workshops to share experiences and build solidarity.
The 20 workshops shared the common objectives of empowering members of equity groups and strategizing around mobilizations and political actions to make changes in their workplaces and broader communities.
For the first time, the conferences also held ally workshops for each equity group to raise awareness about the issues and build solidarity with those who do not self-identify as belonging to particular equity groups.
Significant resolutions adopted
Each equity group debated and adopted resolutions in their respective plenaries, with a total of 29 resolutions adopted by all five groups. These resolutions will again be tabled at PSAC's Triennial Convention in 2018 to be deliberated by the general membership.
Of particular note is the adoption of the resolution that calls on PSAC to amend its constitution to allow each equity group to have two delegates attend the Triennial Convention. The delegates shall be elected at their respective equity caucus at their PSAC Regional Triennial Convention.
Elections
Each equity group at the conference also elected two equity delegates each to attend PSAC's Triennial Convention next year. The Aboriginal conference also chose the members that will form PSAC's next National Aboriginal Circle.
Political action
The conferences were the opportunities for delegates to send clear messages to Parliament by signing petitions.
The petitions are calling for:
Asking the House of Commons to put in place measures for a comprehensive and proactive accessibility legislative framework
Requesting the Senate to move quickly to adopt Bill C-16 that will amend the Canadian Human Rights Act and the Criminal Code to better protect trans persons, a bill that has already passed the House of Commons last October
Putting in place measures for a comprehensive review of the Employment Equity Act, to ensure that the protection of the rights of the GLBT community are included in the Act
"Sisters and brothers, let's use the next few days to discuss how we can give hope to our members and how we can engage them in making the change we need," said Robyn Benson in her opening address.
And so they did.