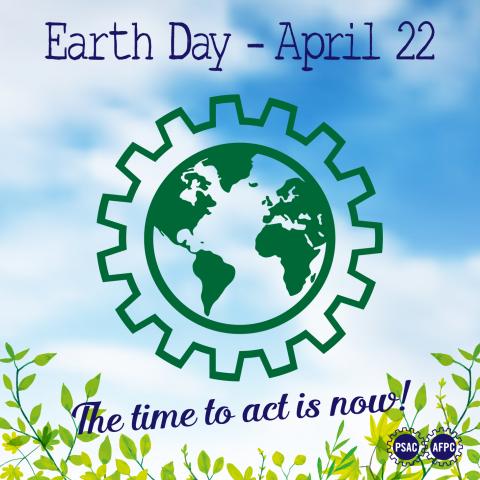 April 22 is Earth Day.
One year ago, the Canadian government, along with 194 other countries, signed the Paris climate change agreement. By signing, Canada and other countries agreed to limit global warming to well below 2 degrees Celsius and to adapt to climate change impacts.
The Liberals have also promised to consult First Nations on pipelines and resource extraction and to end boil water advisories in First Nation communities across the country by 2021.
PSAC is working to ensure the government meets these targets, but after 16 months in power they are far behind where they should be.
Liberal's climate changes measures are not enough
According to the Green Economy Network, the measures in the government's Pan-Canadian Framework on Clean Growth and Climate Change are insufficient to meet its targets and limit global warming to 2 degrees by 2030.
A recent Environment Canada study comes to a similar conclusion.
Government must consult on pipelines and resource extraction
In the last election, the Liberals ran on a platform that was heavy with commitment to Indigenous Peoples.
The government pledged to implement all 94 Truth and Reconciliation Commission recommendations, beginning with the United Nations Declaration on the Rights of Indigenous Peoples. One of the recommendations requires the government to consult with First Nations to receive consent before any pipelines are built or any resource extraction takes place. Instead of complying, the government has issued mining permits and granted pipeline access through traditional territories.
The Liberal government must keep its promises to ensure that Indigenous communities can say no to resource extraction projects that will do irreparable harm to their communities and to the earth.
Clean water is a right
This government is moving far too slowly on its promise to ensure that all Indigenous communities benefit from access to clean water. Water is a human right, and something that is taken for granted by most Canadians. 
In the 2016 budget, the liberals promised $1.8 billion over five years for water infrastructure and $141.7 million for water quality monitoring. The 2017 budget allocated $3.4 billion in infrastructure spending, but it is unclear if there was any new money for water. At the same time, there are still over 100 boil water advisories in place and it is estimated that at least $5 billion over ten years is required to fix this long standing problem.   
PSAC has been working with the community of Grassy Narrows on its campaign to demand safe drinking water in all First Nations communities. Access to safe and clean tap water for drinking and bathing is an absolute necessity. It is appalling that so many First Nations communities are not guaranteed this basic human right.
Situations like those in Grassy Narrows and other communities must be resolved now.
On Earth Day, PSAC calls on the federal government to take strong action to protect our environment while respecting and recognizing the rights of Canada's Indigenous peoples.