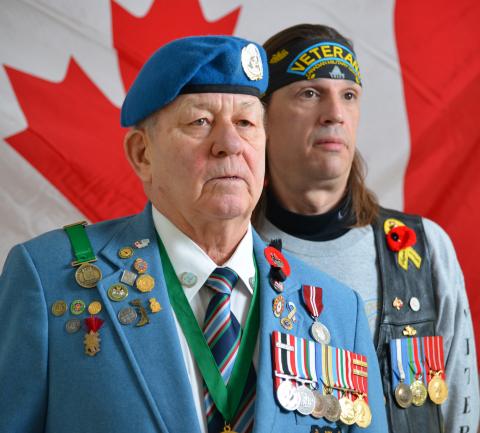 The federal government is betraying Canada's veterans. After putting their lives on the line on behalf of all Canadians, many veterans – especially those living with serious injuries, disabilities and mental health challenges like Post-Traumatic Stress Disorder – rely on Veterans Affairs for support.
The Canadian government promised to take care of them from the day they enlisted until the day they die. But drastic cuts to Veterans Affairs staff and services since 2012 mean that veterans are not getting the care they need and deserve.
In January 2014, the federal government shut down nine District Veterans Affairs offices in Corner Brook, Charlottetown, Sydney, Windsor, Thunder Bay, Brandon, Saskatoon, Kelowna and Prince George. Since the offices were closed, veterans say they now must drive for hours to see someone in person or wait on hold on the phone.
Vince Rigby is a former peacekeeper from Cape Breton who suffers from PTSD. He says he has been struggling to access services since the Sydney office was closed: "I haven't got a counsellor any more so I have no idea what treatments are out there available to me."
Robyn Young is 24 years old and from Windsor, Ontario. She is currently fighting a brain tumour, which was misdiagnosed when she was in the military. Her mother Pearl Osmond (a veteran) has been fighting her case and has had to drive to the London office several times (four hours round trip), with her very sick daughter in the car with her.
Rob Cutbush is a 25-year veteran of the Navy from Thunder Bay, Ontario. He says that his PTSD symptoms have been exacerbated since he has been unable to walk into his local office to get his medical treatments sorted out.
Cut to Veterans Affairs: The facts
Veterans Affairs has lost more than 900 full-time-equivalent jobs out of 4,000 since 2012 (that's nearly a quarter of the workforce). The department has not replaced a single employee who has retired or resigned in the last two years. Veterans Affairs offices are now so short-staffed that there is a backlog of six to eight months in providing requested services to veterans.
Since the nine offices were closed in January 2014, veterans say they now must drive for hours to see someone in person or wait on hold on the phone.
Employees at Service Canada do their best, but are not given the specialized training and access to the veterans' files that are needed to help veterans with complicated pension and benefit claims.
Case managers can barely keep up with the demand. The number of files on their desks continue to grow and this only frustrates veterans more.
Client Service Agents, who are normally the first point of contact for a veteran seeking services from the department, typically have very high caseloads of 750 to 1,200 veterans each.
The government announced it was committing $200 million to help veterans deal with mental health issues. But buried in the fine print was the fact that this money is to be doled out over the next 50 years.
Veterans' needs are growing
Across Canada there are currently 695,700 veterans and 110,000 serving members of the Canadian Forces and the RCMP. Of them, 126,000 receive benefits and services from the department, excluding survivors, spouses and RCMP members. As of March 2013, Veterans Affairs was serving 212,199 clients. There are 570,000 more veterans who are not clients and may not be aware of the programs and services available to them.
In the last two years, the number of traditional veterans – excluding family members, survivors and the RCMP – served by Veterans Affairs has decreased from 63,000 to 49,000. But the number of Regular Force Veterans served by Veterans Affairs – again excluding family members, survivors and the RCMP – has increased from 68,000 to 76,000. That number will continue to increase, especially given that in 2013, the average age of the 594,300 Canadian Forces veterans is 56.
It's important to note that as older veterans age they require more care and services, and that younger veterans turning to Veterans Affairs for services, such as those returning from Afghanistan, tend to have more complex needs, as many have been diagnosed with serious mental health conditions such as PTSD and OCD as a result of their experiences while deployed.
Privatization of services
The government announced in February 2015 that it would be eliminating 44 positions at Veterans Affairs Canada. The cuts represent the final step in the contracting-out of treatment authorization for ill and elderly veterans to Medavie Blue Cross.
While veterans used to be able to have their benefit claims decided by knowledgeable public service workers, they will now have to deal with a private insurance company. This will have a significant impact on services for veterans.
Under the old system, veterans who experienced service-related medical conditions were granted "treatment benefits," in consultation with their doctors and a Veterans Affairs Case Manager. These benefits are often considered more crucial than financial compensation, because they provide meaningful support for veterans to live their lives. This can include psychology, physiotherapy and massage therapy, among other services.
Veterans Affairs client service agents used to call veterans every year and help them make sure that they were accessing the benefits they need. Now, Blue Cross sends a letter and cuts the veterans off if they can't reach them by phone. It can take three months or more for veterans to have their benefits re-instated once they've been cut off.
Our demands: