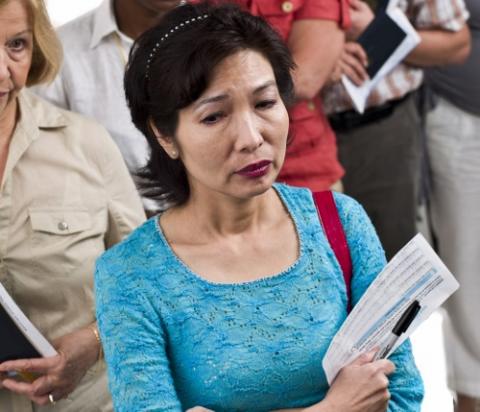 The 2017 federal budget contained some good news for workers, with improvements in employment insurance (EI). The changes are only minor improvements, however.
Budget fails to address problems with EI
The budget expands benefits for certain categories of leave but does little to address the real problems with EI.
It ignores labour's long standing demand to set the universal qualifying period to 360 hours.
It did nothing to extend the eligibility periods.
It made no changes that will assist precarious workers to access EI benefits.
It did nothing to assure that EI premiums are adequate to fund a program that will be essential in assisting members whose jobs are impacted by technological change and climate change mitigation.
It has not committed enough funding to Service Canada to improve and sustain service delivery and reduce wait times for people who need to access EI
"After decades of cuts, employment insurance needs a major overhaul if it is to live up to its purpose to protect unemployed Canadian workers," said Robyn Benson, PSAC National President. "Unfortunately, this budget falls short on addressing the biggest challenges facing EI today."
Improved service delivery?
This budget provides no additional or sustained funding for Service Canada to improve service standards or increase staff that deal with claims.
The budget provides a one-time investment of $12 million "to develop modern approaches to service delivery, beginning with Employment Insurance." However, it is unclear where this money will go. This small investment does not address the ongoing funding needed for Service Canada to improve service levels.
New employment insurance caregiving benefit
The budget proposes to provide $691.3 million over five years, starting in 2017–18, and $168.1 million per year thereafter, to create a new EI caregiving benefit of up to 15 weeks.
This benefit, which would be in addition to the current compassionate care benefit and the program for families with severely ill children, will cover situations where a worker is providing care to an adult family member who needs significant support to recover from a critical illness or injury.
The Canada Labour Code will be amended to ensure that federally regulated workers have job protection while receiving these new EI benefits.
The new benefit is an important improvement for workers who must care for a severely ill family member. Being a caregiver can be a full-time job and the new benefit recognizes that and allows workers to do it without having to worry about their job and still receive an income.
Expansion of EI parental benefits
The government also announced an expansion of EI parental benefits to 18 weeks at 33% of average earnings as opposed to the current 55% for 12 months.  
It also proposes to allow women to claim EI maternity benefits up to 12 weeks before their due date as opposed to the current 8 weeks. Unfortunately, this time will be deducted from the existing total and moms who take advantage of this benefit will have less time with their new babies.
As with the caregiving benefit, the Canada Labour Code will be amended to ensure that federally regulated workers have job protection while receiving these EI benefits.
While the changes to parental benefits are an improvement, it is uncertain who will be able to take advantage of these new provisions. Many parents cannot afford to live off only 33% of their income. This would certainly be difficult, if not impossible, for single parents or parents whose partner does not have a high enough income to support the family. 
This 18 month leave at 33% of income for parents is also not a substitute for a high quality, accessible child care system.
Other EI improvements
The budget provides $132.4 million over four years in EI funds, beginning in 2018-19, and $37.9 million a year after, to allow unemployed Canadians to pursue self-funded training while receiving EI benefits. Previously workers who wanted to pursue self-funded training were denied EI benefits. This will help laid-off workers retrain for new jobs.
While the budget has made very small improvements, PSAC is disappointed that this government has missed the opportunity to make real changes to improve the lives of workers.