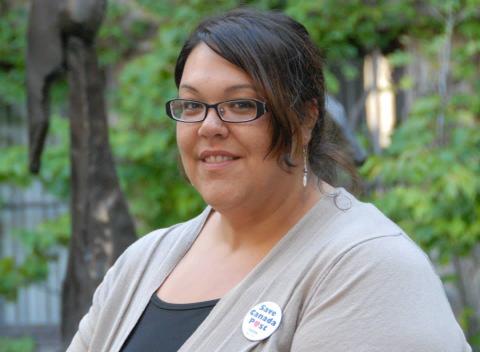 Tanna Pirie-Wilson spends a lot of time thinking about the impact of government cuts on Aboriginal communities in Canada. As a member of PSAC's National Aboriginal People's Circle (NAPC), she hears from First Nations organizations that have seen their budgets cut and from Aboriginal union members whose jobs are at risk.
Tanna works for Service Canada in rural New Brunswick and has been active in the union for more than six years. She is currently the Atlantic female representative for the NAPC, the vice president of her union local and a prolific human rights activist.
The NAPC is made up of 14 PSAC representatives from across Canada that are from First Nations, Métis or Inuit communities. The group was founded after the 2003 PSAC convention, where delegates adopted a resolution to create a network for the union's Aboriginal members.
Fighting for rights
Some of the key issues that the members of NAPC plan to work on this year include raising awareness about missing and murdered Aboriginal women, promoting First Nations education and health, and pushing the federal government to commit to the UN Declaration on the Rights of Indigenous Peoples.
"Creating a stronger more informed membership, during these times of austerity is a key priority for us to advance our Aboriginal rights within the workplace, the union and within Canadian society," says Tanna.
Challenging racism
Michael Ballard is a NAPC member and a fishery officer field supervisor in Campbell River, BC. He says that he was drawn to get more involved in his union after experiencing racism on the job.
"As a fishery officer, I am a regulator of a resource that is a cultural centre to coastal First Nations and Métis communities. I am also a witness to the struggle in establishing a role and access to fisheries resources. A by-product of the struggle was a lot of resentment on both sides and as a result I was exposed to and a witness to racism and other forms of discrimination in the workplace."
Promoting change
According to Michael, getting involved with PSAC and the Aboriginal circle has given him a voice in the workplace and a chance to try and make things better.
"Change from within has been my mantra and the union has provided that opportunity," says Michael.
Tanna agrees and she encourages PSAC members to engage with the union and to self-identify as First Nations, Inuit, or Métis.
"This way we can create a broader Aboriginal circle and network."