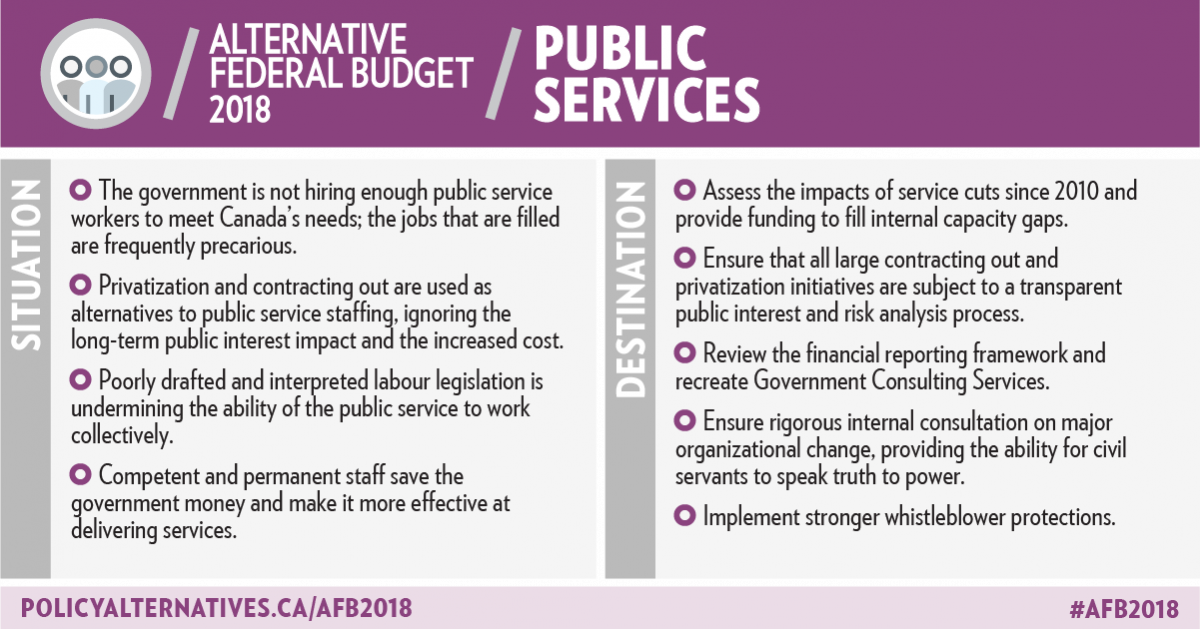 Today. the Canadian Centre for Policy Alternatives (CCPA) released its 2018 Alternative Federal Budget (AFB), putting forward a sustainable plan to deliver a green economy and a more equitable society for Canadians.
Getting There: Alternative Federal Budget 2018  lays out in detail how Canada can sustain its current economic growth while fighting poverty and transitioning to a zero-carbon future.
It calls for investing in child care, in more sustainable and accessible infrastructures (including public transit and affordable housing) and in our public research institutions. The AFB points out that these investments "would create nearly a million new jobs by 2020, turning today's positive GDP and employment levels into a foundation for ongoing sustainable growth."
Other proposed actions include:
Accelerating the national carbon price increase to reach $50 per ton by 2020, moderating the impact on workers through rebates while investing the rest in training, apprenticeships and green infrastructure, including high-speed rail.
Investing in better public services, including increasing health transfers to provinces and implementing a pharmacare program, so that no family has to choose between the medicine they need and food
Providing universal child care for the millions of families with working parents who face long wait lists and unaffordable fees
Modernizing our employment insurance program to reflect the increasingly precarious nature of work—ensuring that workers in part-time or contract work are supported by our social safety net
Eliminating tuition fees, which will lead to a better educated and more prepared workforce for the future, and allow new workers to enter the economy without an unmanageable debt load
Renewing public service
The AFB also has proposals for reversing the detrimental impacts of past budget and job cuts to the federal public service and strengthening the sector to better serve Canadians
Its proposals include:
Assessing the impacts of service cuts since 2010 and provide funding to fill internal capacity gaps
Ensuring that all large contracting out and privatization initiatives are subject to a transparent public interest and risk analysis process
In the short term, mitigating the impact of the Phoenix pay system on public service workers by increasing the number of compensation staff who can make sure people are being paid and supported appropriately
Investing $200 million in each of the next three fiscal years to increase and train permanent compensation staff (1,500 new employees) and hire additional in-house IT staff to ensure that software and hardware changes are aligned.
Ensuring rigorous internal consultation on major organizational change, providing the ability for civil servants to speak truth to power
Implementing stronger whistleblower protections.